This is what we did on Christmas day. We got up, phoned our parents and then got on a bus heading to Bratislava.
The capital of Slovakia has been on our minds ever since we've been to Slovenia. I know, Slovenia, Slovakia – in fact it's a bit of a joke among people of both countries on this confusion because there has been too many times politicians has got them wrong!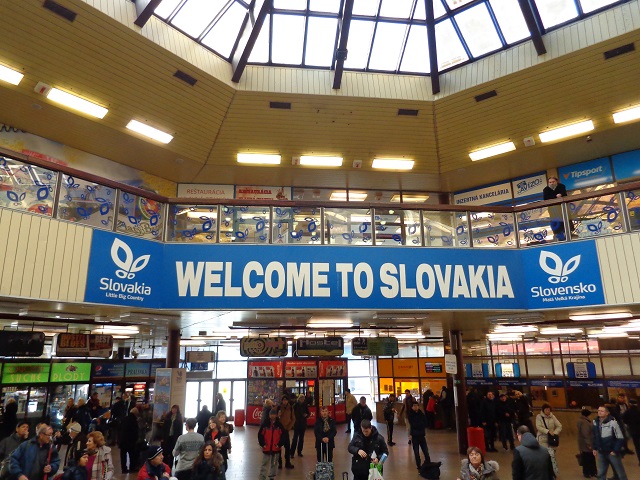 Apparently the staff from Slovenian and Slovakian embassies around the world often meet to exchange their wrongly addressed mail…
Anyway, since we have been to Slovenia, we've wanted to come to Slovakia just to complete the 'Slo'-route. And seeing that we were going to make our way from Budapest for Christmas to Prague for New Years as part of our annual end of year trip, we though – why not?
Why visit Bratislava?
Bratislava is at the cross roads of many empire and kingdoms, and has a settlement history dating back to 5000BC. Even in European standards, this is pretty impressive.
In more 'recent', countable historic times, Bratislava – called Pressburg at the time – was the crowning city of many of the kings and queens of the Kingdom of Hungary.
As a capital city it is also relatively new – skipping through the World Wars and various occupation – Bratislava only become the Slovak capital in 1993.
So, naturally there's a lot to be fascinated about in Bratislava!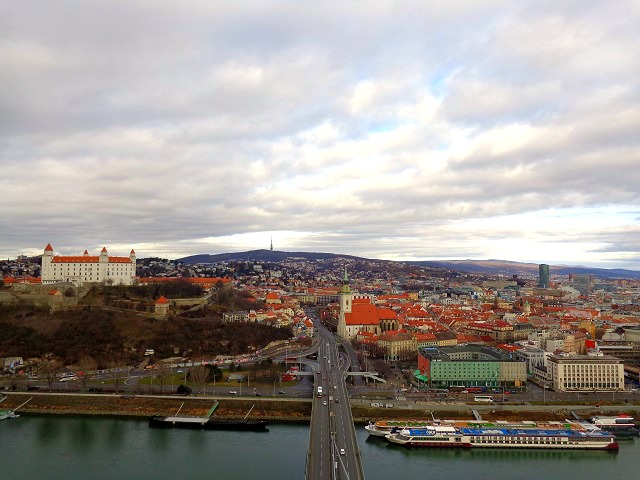 Bratislava is a popular one day destination
Many people by-pass Bratislava – the bus we were on from Budapest was designated for Prague. At Bratislava, one of its mid stops, only us and another couple got off. The dusty bus terminal that welcomed us did gave us a few minutes of doubt, of why we chose to stop here.
However, upon seeing the old town centre after a short bus rid and a bit of walking proved that our instincts were correct. Bratislava was worthy of a stop!
Other than land travellers, Bratislava is a popular 'day trip' destination with those visiting Vienna, or are on board a Danube cruise ship, staying just a few hours, walking through a planned tour photographing significant buildings, sit in a cafe for a cup of coffee before leaving again.
Fair enough. For the city is only 6km from the border of Austria after all, it's a tempting destination for those who want to cross off two countries in a day… but that's really not the way to experience a place!
Some people do choose to stay, but it is obvious from the state of hotels on the river front that not enough stay on to sustain the tourist industry. On of the squares on our map was marked on the map as a Park Inn by Radisson hotel but now derelict, covered in scaffolds, sadly no longer bearing any resemblance for a hotel.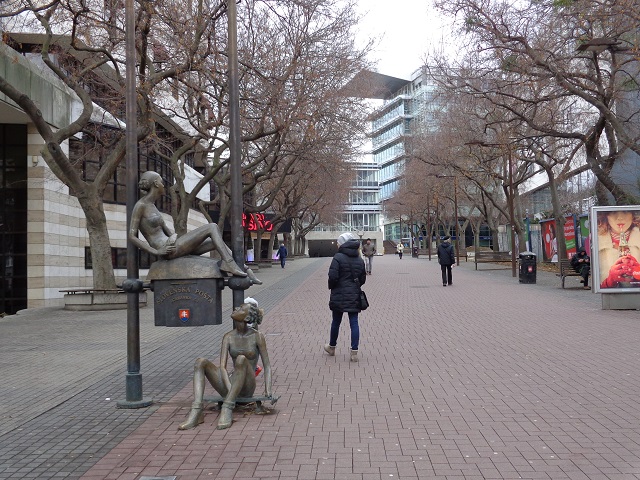 Why Bratislava is worth more than just a day trip
From all my past travels, I've figured this out. To really feel a place, you've gotta spend at least 3 days in it.
Following this rule, we did find Bratislava a pleasant little city to spend more than just a day in.
As I mentioned, most of the day trippers who come to Bratislava get to experience the old town.
They follow a well trodden route of historical cobble stone streets, visiting notable buildings and city gates, have lunch in one of the restaurants in the centre, get up to the castle and down before returning to wherever they came from.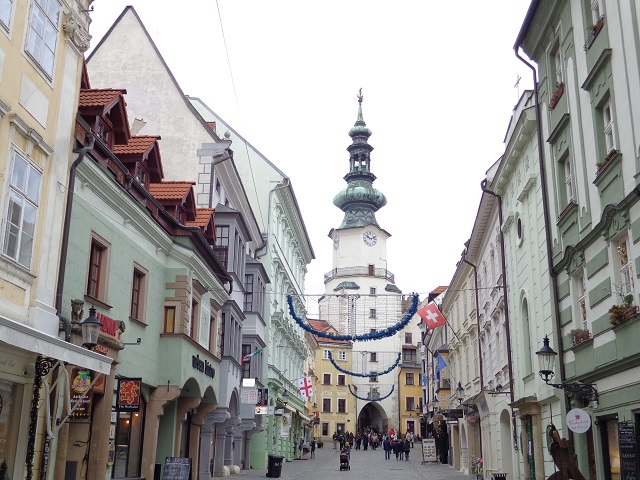 They would have got a small glimpse of Bratislava, which isn't all that bad, as the old city centre is very picturesque and wonderful, certainly make great photographic memories in their travel albums.
What they won't get to experience are some of the less visited sites, such as the UFO and its surrounding parks, the contrasting style of the Soviet creativity – such as the upside down pyramid of Slovak Radio and the concrete fountain in Námestie Slobody.
Step away from the old city centre is also a thriving cafe scene. Smart, modernised cafes where students and young professionals hang out are the best places to get an idea of the local mentality and lifestyle, not to mention the best places to people watch!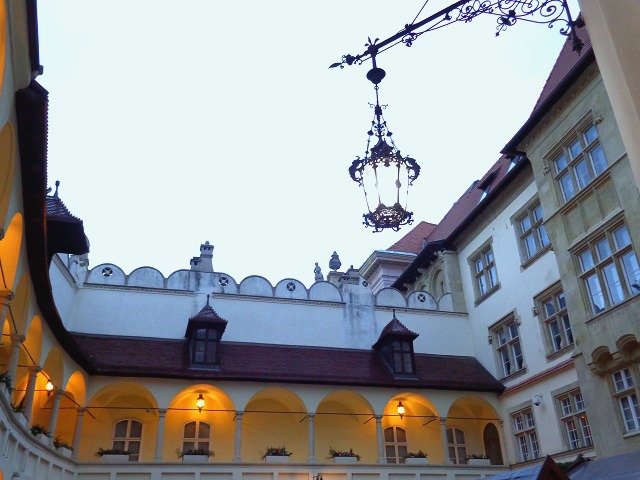 What to see and do in Bratislava?
Ah, so the most important question is now: what exactly can you see and do for more than a day trip in Bratislava?
The obvious first thing is to stroll the old town. Like any other old towns, it'll be touristy but you will never encounter the same sort of crowds as you would say in Prague or Vienna.
Bratislava is definitely a quieter, less visited destination than the major European cities surrounding it so you'll have a great time strolling the narrow streets, poke your head into antique shops and pharmacies and check out the town gate.
Don't be afraid to get off the main streets! Turn into the lane ways and side streets, explore off the map and you'll find surprising corners of Bratislava with quirky characters.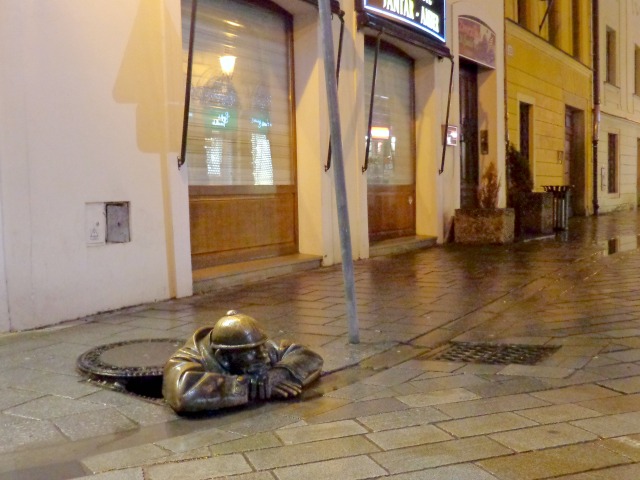 Cross the river on Most SNP (which visitors usually don't) and get yourself to the top of the UFO. You can't miss it, because it does look like a space ship stuck on top of the bridge post!
The UFO opened its doors to public in 1972, and is the smallest of the World Federation of Great Towers (members include Taipei 101, Sydney Tower, the Shard in London and Dubai's Burj Khalifa).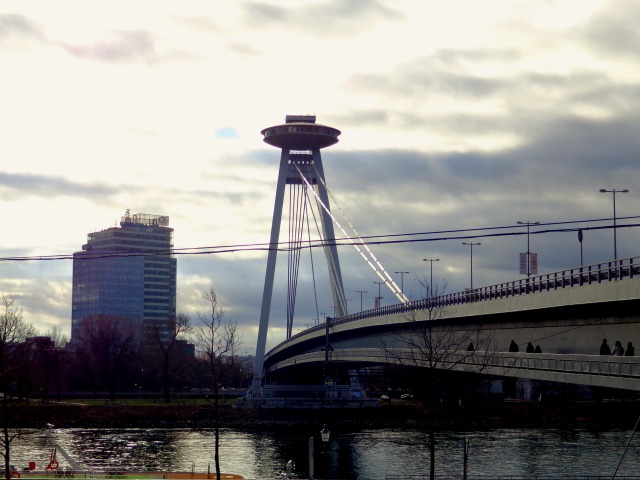 The view from the top is fantastic, where you can witness the changes through history of Bratislava. On one side, the old town and the castle represent the ancient history of the Hungarian Kingdom, and on the other, rows upon rows of identical residential blocks signify the Communist era.
Look beyond that, a farm of wind energy turbines the sign of change, where today's technology is trying to reduce the city's carbon footprints.
A little beyond the old town, going towards the main train station, you'll find various different reminders of the Communist era.
This is quite a standard feature when you travel around Eastern Europe, and is one of the things we love about travelling – you get to see things as they were, and to remind ourselves that we should never take what we have for granted, as many people have done without so much for so long.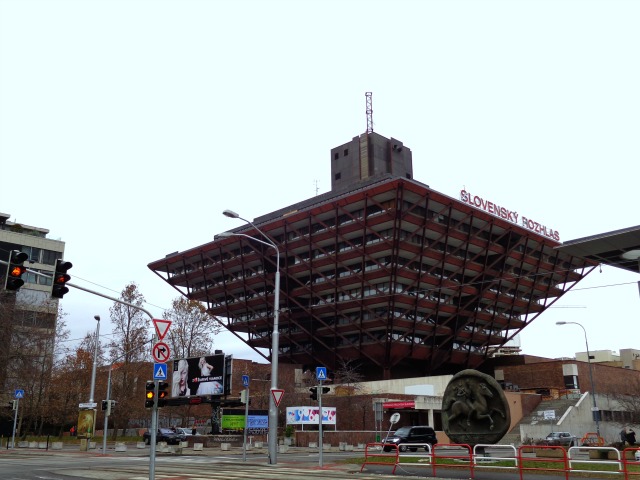 One of the most interesting buildings, is the building of Slovak Radio. During the Soviet era, all throughout Eastern Europe, a surge of architectural creativity splashed these Brutalist architecture all around.
An upside down pyramid is just one of the many you'll find in this part of the world, and today it makes an intriguing structure among the many imperialist buildings.
No doubt you'll be tempted by Bratislava Castle on the hill top. It's worth climbing up the hill for a great view of the city, and the reconstructed Baroque Garden is pretty, however the castle itself is more impressive from the outside than in.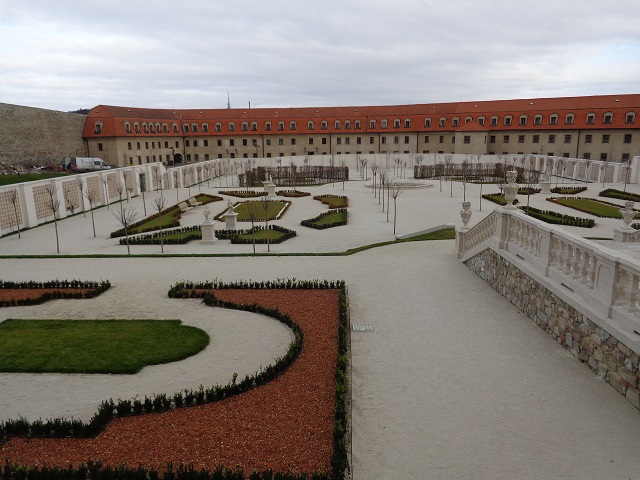 Don't let me discourage you from visiting but don't make it your priority if you don't have time.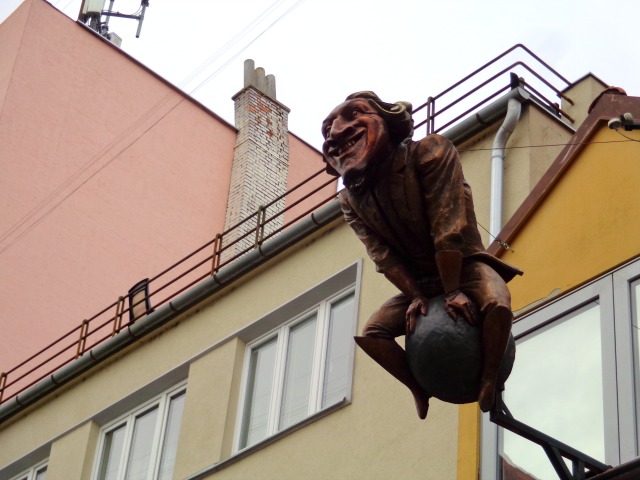 Oh, and wherever you end up in Bratislava, remember to look up! From pretty building facades and quirky characters – you never know what you'll find when you look up!
Other than attractions, there are plenty you can do in Bratislava. One of the most encouraging signs of progress in Eastern Europe is that the EU has given the younger generation more opportunity to explore their options, and businesses are opening up everywhere. Hip cafes and trendy bars offering great coffee, good beers and a nice slice of cake can be found on the fringe of the old town. Visit a market and get in the local atmosphere at Central Market Miletičova or at the Blšák na Interi flea market.
Not to mention, plenty of places to try great traditional meals such as tripe soup and goats cheese dumplings!
Bratislava is definitely worth a few days stay!