Our annual festive season trip had gone way too fast! The trip was packed with relaxing soaks in the baths of Budapest, exploring the historic sights of Bratislava, going underground in Brno and discovering the quieter sides to Prague.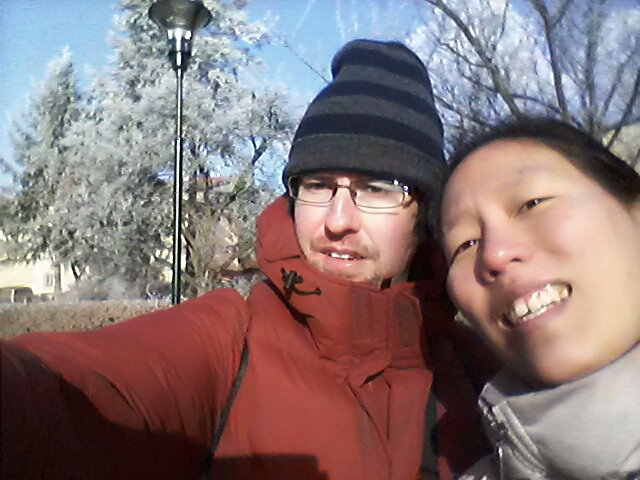 These are some of the well trodden routes for the average tourist, however it surprises us how many people are on group tours that doesn't allow them the freedom and flexibility to really experience the destination!
So, here's our itinerary and how we get around places on our ten day journey. I hope you'll find it easy to follow, so that you too, can plan your own independent travel around this part of the world.
The itinerary makes use of local transport to avoid expensive taxi costs, and to encourage you to experience a destination like a local.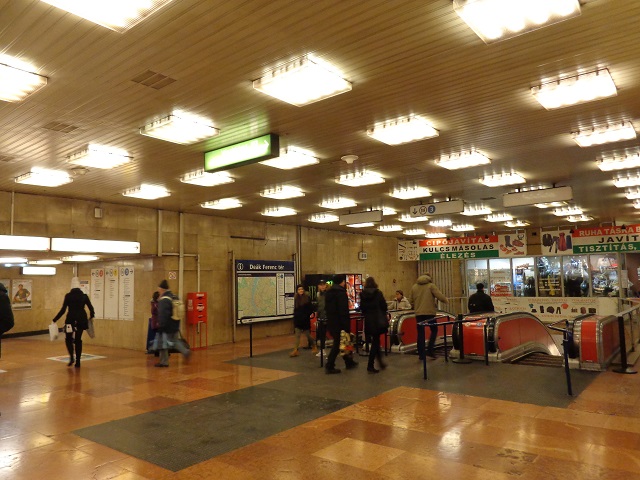 Getting in, and getting around Budapest
We flew into Budapest Ferenc Liszt International Airport from London, with a direct flight that took around 2.5 hours.
From the airport, take the public bus number 200E to its final station, which is the Metro terminal of the M3 line (blue).
As you will be changing over forms of transport, you will need a 'transfer ticket' which you can purchase from the airport at the Public Transport counter (when you exit security into the airport terminal look for signs that says 'public transport', not just a mini bus shuttle as these are private buses that cost more).
A transfer ticket, at the time of writing, costs 290HUF. You will receive two ticket stubs. One for validation on the 200E bus, another to validate when you are at the Metro terminal.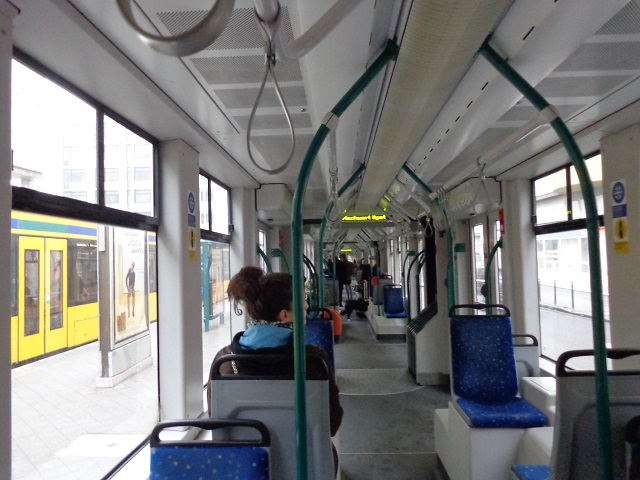 Validation of tickets is absolutely essential, as we have found Budapest's transport ticket inspectors surveying commuters for fare evasion every day!
Anyway, once you are on the M3 Metro, you can pretty much get to anywhere in the city. You are also able to switch the Metro line if you need to on the same ticket as long as you don't exit the station.
Once you are in Budapest, the city centre can easily be walked. However, the tram, bus and Metro system can also get you anywhere you want.
If you are there for a couple of days and wants to visit the baths that are a little outside the city centre for example, it's worth bulk buying 10 ticket stubs in one go for cheaper single ticket costs. You can get this at ticket machines (which has English translation) or at the ticket offices if you don't have the right change.
Then, each time you enter a Metro station or aboard a tram/bus, simply validate one for the trip.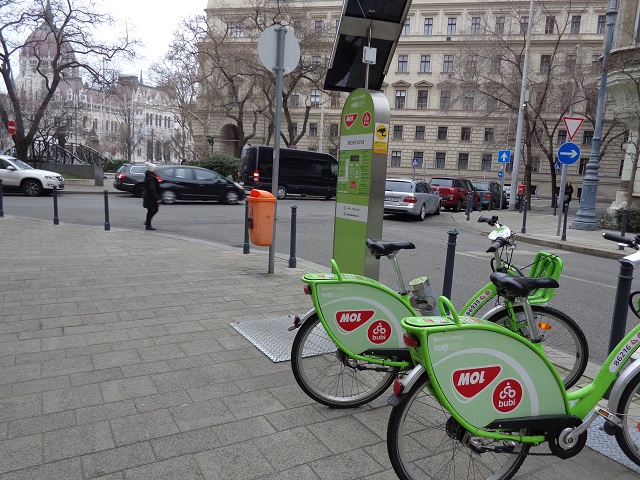 Or, if you are up for it, Budapest has a good city bike rental network. Grab one and explore away!
From Budapest to Bratislava
There are various ways to get from Budapest to Bratislava.
There is one direct train service that departs Budapest quiet early in the morning, which may not be idea for those who likes to sleep in a little.
Other train services travel via Vienna, which is a bit of a detour. However, this is also an opportunity for you to include Vienna as part of your itinerary if you wish!
On our trip, we chose to travel by bus, and caught the service that departed Budapest's Népliget coach station.
Népliget is on the M3 Metro line, and once you exit the metro, follow international departures terminal to get the right bus to Bratislava.
We travelled with Eurolines, and pre-purchased tickets on the company's website. However, tickets can also be purchased on the day of travel from the ticket windows on the ground floor of the terminal.
If you are there early, you can wait down stairs where seats are aplenty and away from any nasty weather.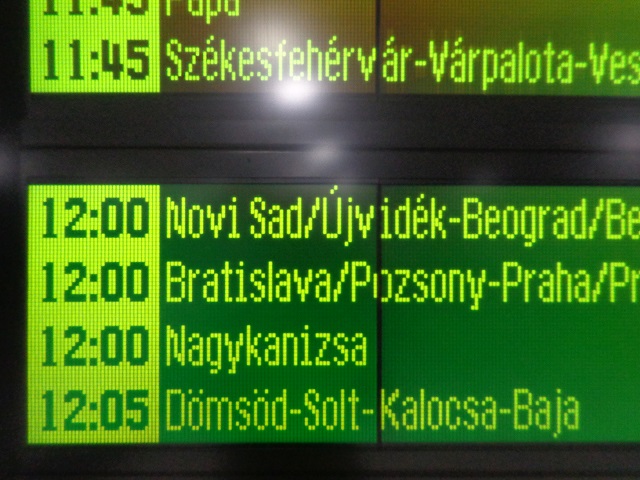 The bus trip from Budapest to Bratislava takes around 3 hours, and is a pleasant trip that follows the road that hugs the Austrian border and eventually crossing into Slovakia.
The bus will stop at Bratislava to drop off those who wish to alight, and will continue onto Prague (so, don't fall asleep and miss the stop!)
Getting in and around Bratislava
The bus from Budapest will drop you off at AS Mlynské Niv bus terminal, which is around 1.5 kilometers out of the city centre.
You can walk, if you are up for it, or there are plenty of bus services to take you closer to the centre. If you don't really know where you want to be yet, the safest bet is to take bus 70 to Most SNP, the main bridge that connects both sides of the river and navigate from there.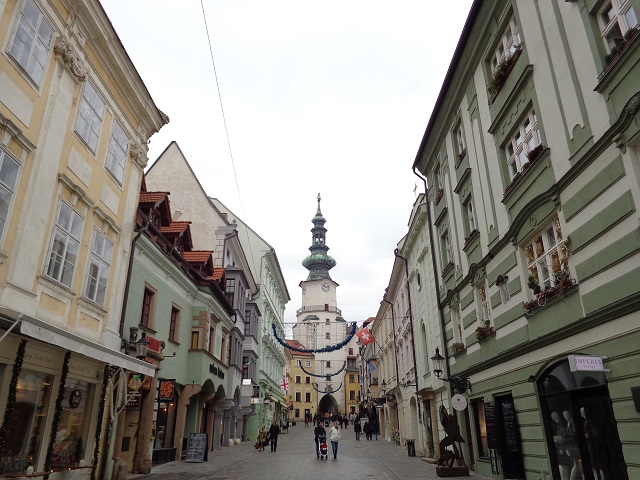 Public transport fares are purchased by travel duration. For most tourist purposes, the single fare that allows 15 mins single travel is enough, which cost EUR 0.70.
Those who need to transfer will be required a 60 mins ticket, which cost EUR 0.90.
Note that ticket machines here will only accept coins! So make sure you save some change from your shopping to use on public transport.
Bratislava, like most other European cities, has a good network of transport. The most convenient will be the trams, with clear routes and will take you to most sights around the city.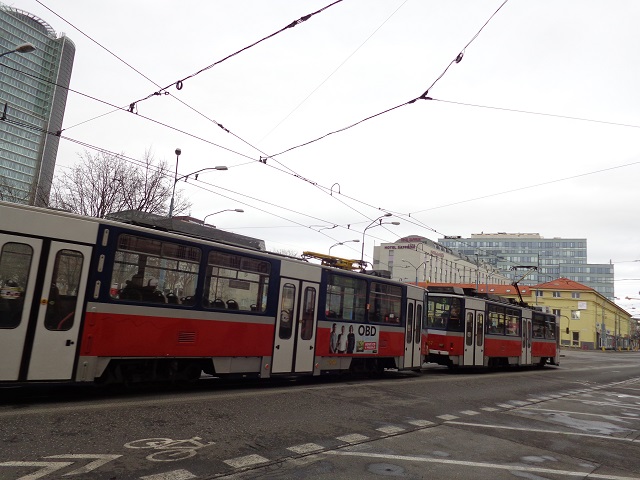 Buses and trolleybuses are great too, if you are up for a bit of an adventure!
We mainly walked around Bratislava as the city is small enough to be explored on foot. However if you are looking to utilise the public transport repeatedly, you should consider a multi-day transfer ticket.
A 1 day ticket costs EUR4.50, and there are also tickets for 2 days, 3 days and 1 week.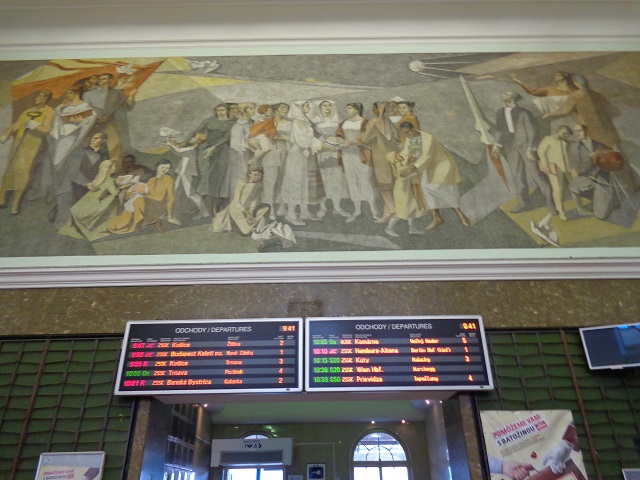 Bratislava to Brno
From Bratislava we hopped on a train to Brno, Czech Republic's second largest city. It is en-route to Prague so it made the perfect 'stop over' destination.
The train tickets can be purchased online from Slovak Rail website (http://www.slovakrail.sk/) in advance where you can also check the train timetable as well.
The journey only takes 1.5 hours, with the scenery swapping between lush green forests to industrial factory scenes that is so common in this part of Europe.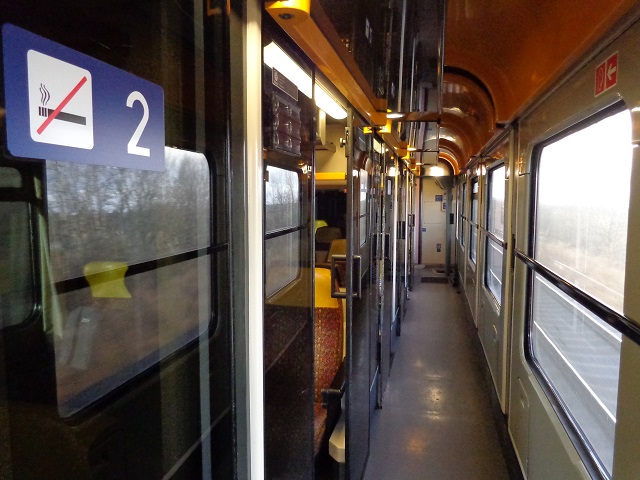 The trains, if you haven't been on one in Eastern Europe, is mostly in cabins. If you haven't made a seat reservation, and you'll need to make sure that you only take a seat where there are no reservation tickets stuck to the cabin's doors.
I have found that cabins make fantastic social train journeys. If you are lucky to share one with a local family, make the time to chat and get to know the people who live on these lands!
Getting in and around Brno
The Brno train station is immediately outside the main old town centre so it is easy to walk to your accommodation in any direction.
And having said that you can pretty much get around Brno on foot. But if you want to use the trams, they are also easy to use and can help you if you have a lot of luggage to carry to and from the train station.
A single fare for 1 section is 10 CZK, more if you need to transfer. You can find a comprehensive ticketing guide on the city's transport website here.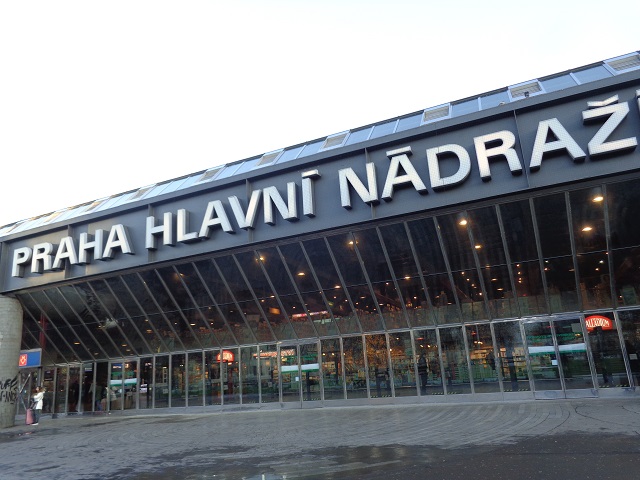 Getting to and around in Prague
Again, from Brno to Prague it is easy by train and you can pre-purchase tickets on the Czech Rail website. Same deal as the train from Bratislava to Brno, if you haven't got a seat reservation and make sure you choose a seat that isn't attached to a reservation.
Prague has a fantastic transport network that can rival any major city in the world. Combined with trams, buses and the Metro, there is no excuse not to explore pockets of quieter areas around the city!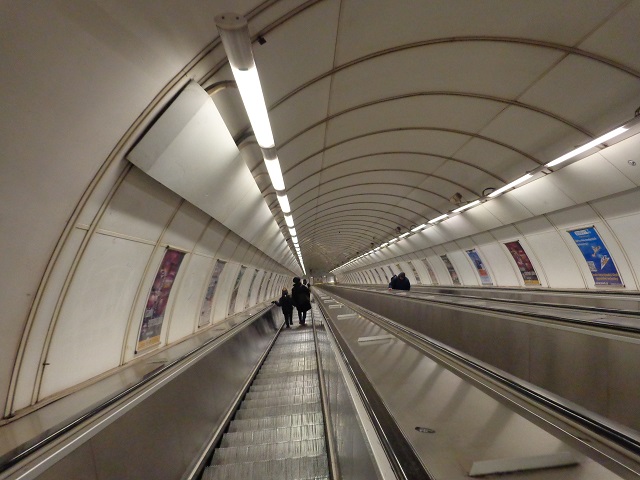 Tickets are sold by travel duration. Most destinations around Prague are accessible within 30 mins, so a single 30-min ticket for 24CZK will suit most of your journeys. The alternative is the 90 mins ticket for 32 CZK, which you'll need for your trip to the airport.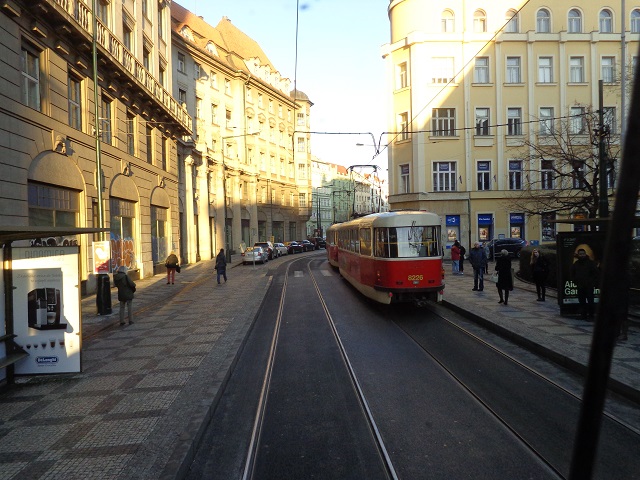 Unlike Budapest, you can use these tickets for as long as they are valid. Which means, if you need a return journey and each trip will only take you 5mins, and you will only spend 20 mins at your destination, one 30-mins ticket will suffice!
This makes Prague's public transport really good value.
However, do consider your options. If you are only there for a couple of days and just want to concentrate on just the old town and the castle, you can simply just walk without spending money on public transport.
If you are planning to utilise the public transport to explore more of Prague, perhaps use the Funicular to get up to Petrin hill, then you can consider a 24 hour ticket or a 36 hour ticket, both are fantastic values, and you won't have to keep validating it all the time.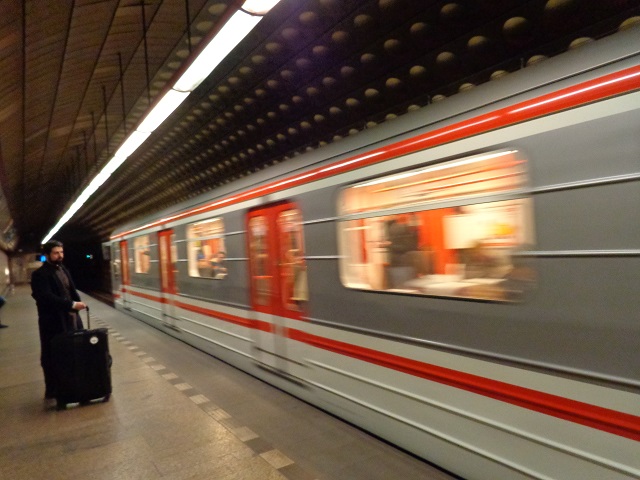 Getting to and from Prague airport
Prague was the end stop of our ten day journey, so we flew out of Prague's Vaclav Havel Airport.
It is cheap, and so easy to get to the airport!
If you have purchased a day or 36 hour ticket and it is still valid, then feel free to use it. However, if you don't yet have a ticket, this trip will require a 90-min ticket.
There are three ways to get to Prague airport by public transport.
Catch the Metro to Nádraží Veleslavín station, which is on Metro line A (green line), in the direction of Nemocnice Motol from the city centre.
On the top of the escalators from the metro platform you are immediately at a bus stop. Wait for bus number 119 which will take you to the different terminals of the airport.
Another way is to get Metro line B (yellow line) to its end stop at Zličín, where bus 100 will pick you up and take you to the airport.
An Airport Express (AE) bus also operates from the main train station but will take a little longer due to traffic etc. Although this option won't require you to change forms of transport, might be preferred by some.
If you are planning an itinerary that starts in Prague instead, simply reverse the above instructions and get to the cities with buses and Metro.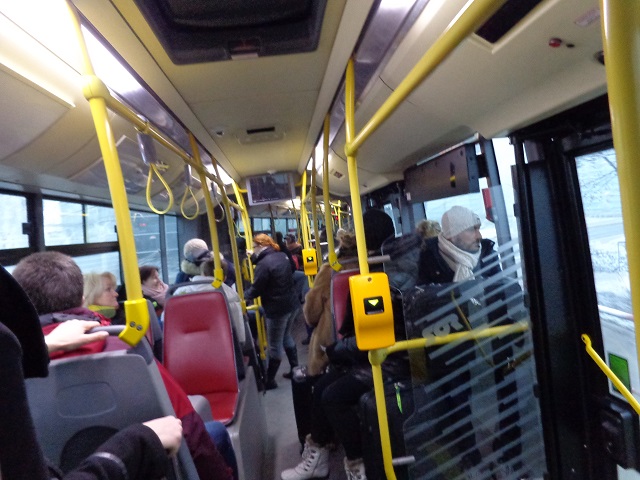 So, don't waste your money on taxis. Take public transport all the day! (Unless you are arriving and departing in the dead of the night, then unfortunately you may have to look for a taxi!)
I hope this post has helped you with your own independent travel plan for this part of the world! And yes, you are welcome to just follow our itinerary or to build on it.
Would love to know if you do! Drop me a line below to let me know!