The night markets are the essence of Taiwanese culture.
The markets are on everyday and is where you'll get a feel of the diversity of food and games of this fascinating country.
However, what exactly do you do at a night market?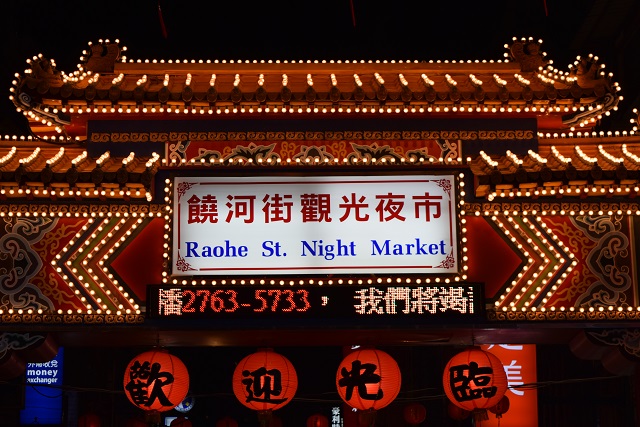 Eat everything from things on a stick to sticky sweets
Well, most obviously you would eat at a night market. There are a variety of food on offer here, and you can really fill up by just stall hopping and trying out all the local and imported delicacies!
Taiwanese cuisine is mostly influenced by indigenous foods and the Japanese culture, and there isn't one thing that defines just what the Taiwanese eat.
The idea of snacking in small plates is definitely something that is loved and why night markets are so popular with the locals.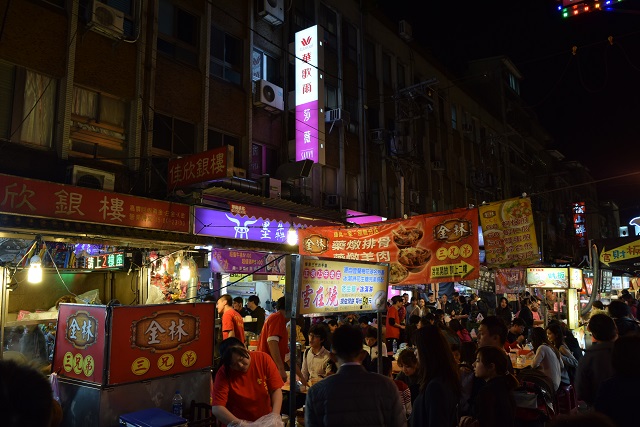 Three of my favourite dishes at the night markets
As I said, you are likely to be able to find a lot of things to eat at the night markets, but there are some traditional dishes typically associated with night markets that you should put on your list to try.
Stinky tofu (
臭豆腐

)

Just like a good old South East Asian durian fruit, don't be put off by the smell! Stinky tofu is actually quite tasty. The pieces of tofu are slight fermented giving it that acquired smell, and is most commonly deep fried and served with cabbage pickles and a local chili sauce.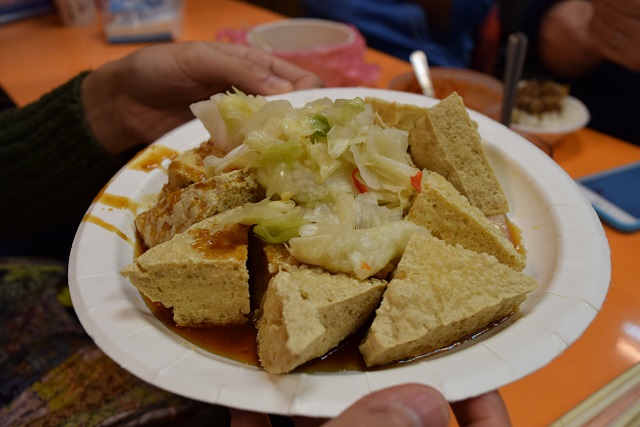 Blood rice cake (
豬血糕)
Think of it as an Asian haggis. Many cultures, both European, Asian and Latin, use pig's blood as a base for sausage based foods. In Taiwan, pigs blood is mixed with rice and served as a block on a stick (or cut up in a bag) and served with a sticky soy sauce, chili sauce, crushed peanuts and fresh parsley.
Oyster Omelette (
蚵仔煎)
The native Taiwanese oyster are about ten times smaller than the oysters as we know it in the west. Small, thumb tip sized oysters are pan fried with cabbage, eggs and corn flour to produce the sticky consistency of this dish, which is served like an omelette (or pancake) with a sweet and sour sauce (or chili sauce, if you wanted).
And many others!
There are plenty of other food choices from local to Japanese to Chinese to just stuff on a stick. YOu are not going to go home hungry I promise!
Enjoy a traditional game or two at the night markets
Don't just look for the food. If you are visiting a night market in Taipei, there is a good chance you'll see both children and adults alike, huddled together to play some of the traditional night market games!
So why not try your skills and join in the fun? Here are three of the most iconic games on offer:
Think netting a guppy is easy? Not with a tissue net it's not! (撈魚)
You think you can net a couple of guppies? What if the net is made out of tissue paper?
Traditionally a game played at Japanese temples, this simple set up became extremely popular during the Japanese occupation and can still be found at almost every night market. The trick is to go in at an angle and gently lift the fish out of the water into the bucket (also at an angle!).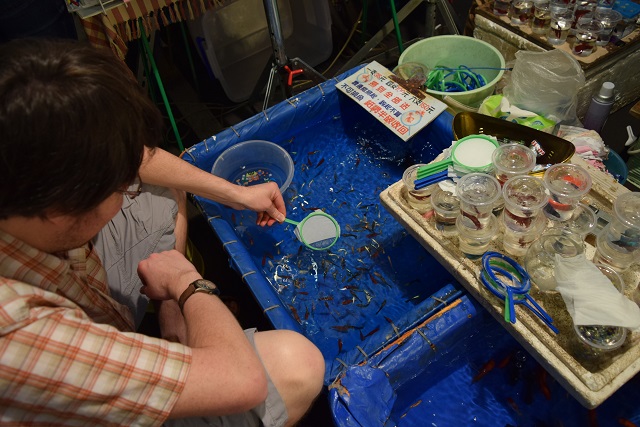 Flick marbles for prizes (打彈珠)
Think of it as a manual pinball game, but more fun. Using a plastic ruler, you flick up a set number of marbles into a maze made of nails and the more you get in a row at the bottom of the board, the bigger the prize!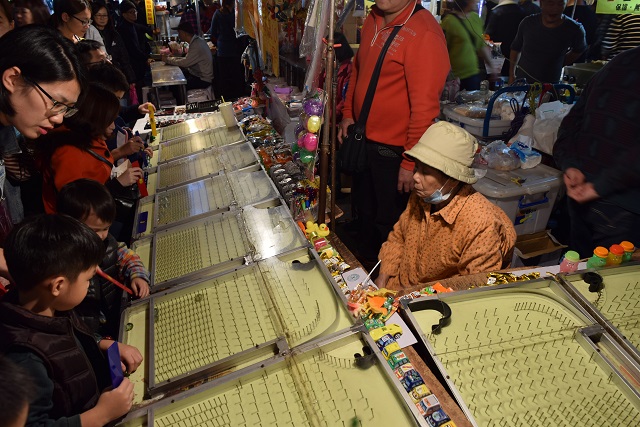 Hoop yourself a beer! Or, just a Pokemon toy if it's easier… (套圈圈)
Another simple, no frills game. Throw little bamboo hoops towards your prize of choice and if you can hoop the prize, you get the prize! Don't be fooled though, it's harder than you think! We throw an entire bucket (around 100 hoops) hoping to get a beer and ended up just getting a chocolate milk drink.
Oh wells, it's about the fun, not the prize after all!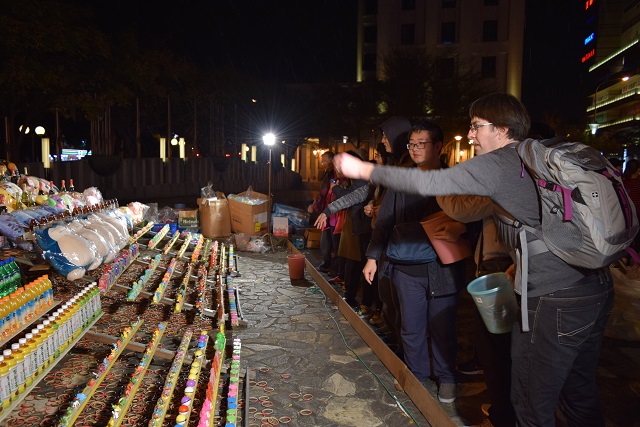 Shop till you drop from fashion to pets!
Ok I am not saying you should buy a pet. Most of us who grew up in the western culture will find it a little distressing seeing pets being sold in small cages but that's just how things are in these traditional parts and instead of getting on your high horse you should just ignore it.
However, shopping is great at the night market and unlike other parts of Asia, prices are mostly tagged and honest at the Taiwanese night markets, they generally don't try to rip you off just because you are not from there!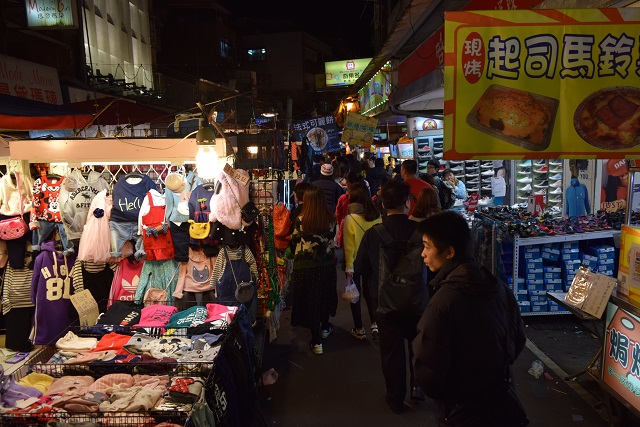 However, bargaining can be done if you are travelling with a local (mostly for language barrier) and are buying more than three items from the same seller.
Besides the market stalls there are generally plenty of permanent shop fronts for clothing and accessories, as well as electronics and car accessories.
Even if you don't want to buy anything, the night markets are great places for a browse!
Experienced the Taiwanese night market? Where? What did you think?