"You would love Marrakech," a friend told me after she visited this popular Moroccan city ten years ago. "There are cats, everywhere."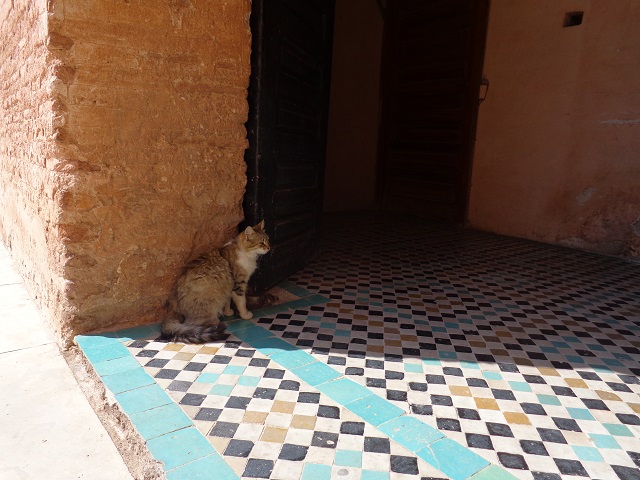 Morocco has been on my mind for a long time – it is one of those places, like India, that intrigues me, and no, it's not because of the cats either!
(Although, the fact that there are cats everywhere was a very tempting draw card! Yes, there is a post about cats in Marrkech coming soon…)
So, for a long weekend, we decided to choose Morocco's most popular destination to try it out.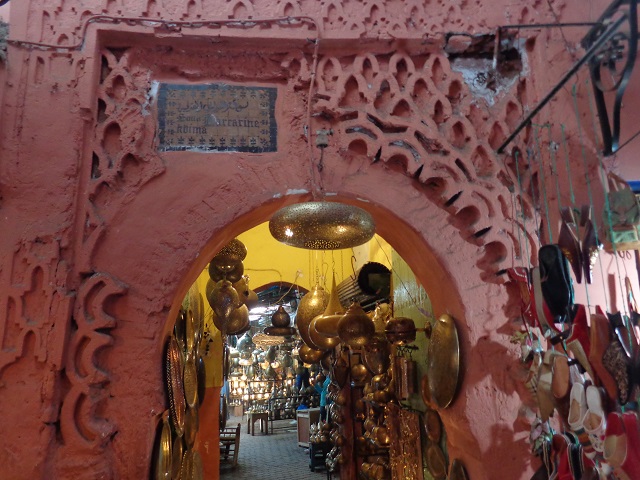 Getting lost in the souks of Marrakech
There is no avoiding souks, market clusters that for a mini city of shops selling shoes, lamps, books, jewellery, clothing, ceramics, paintings, spices, fresh vegetables, fresh meats….
You name it, there is probably a stall selling it. That's the idea of souks – a traditional version of modern day shopping centres really!
Except, in souks, you don't get information desks with maps, and there really isn't any logic to the way shops are laid out. The souks of Marrakech really is a living labyrinth!
Souks sprawl through all the small streets and alleyways of the Marrakech Medina. You can enter from one end and come out somewhere on the other end of town, which is what happened to us one night when trying to find our way back to the Riad we were staying at.
Turning left, turning right, thinking we were turning towards the right direction we ended up somewhere directly opposite the location wanted to be!
The solution was to local the wall of the Medina and walk outside the wall until we come to the gate we recognise that would then take us home.
At least we walked off dinner.
So, that's where, it is actually helpful to hire a local guide for your first day.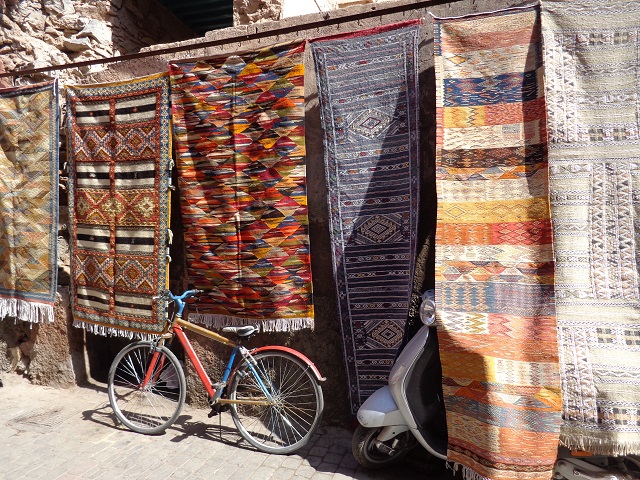 Guide to hiring a local guide in Marrakech
Marrakech is not short of 'local guides'. In fact, many bored youth standing about the streets want to be your local guide for a small 'gift' (fee).
They start off by offering you directions to "Hey Sir! Where you want to go!" (never madam) and then offer to take you there. They'll lead you into interesting side streets (even though, there is a perfectly straight forward way via the main road), pointing out interesting windows and doors along the way before asking you for donation.
While they won't do you any harm and it might be nobler in the mind to suffer the slings and arrows of friendly locals (listen to the Shakespeare in me!) for the sake of 'being in the moment' – by accepting the offer and pay up – it is encouraging bad behaviour.
So, it is a lot better to hire a licensed, educated guide who will not only give you the correct historical information and anecdotes about places of interest – you are also encouraging the youth to 'get a proper education' so that they can make an honest living.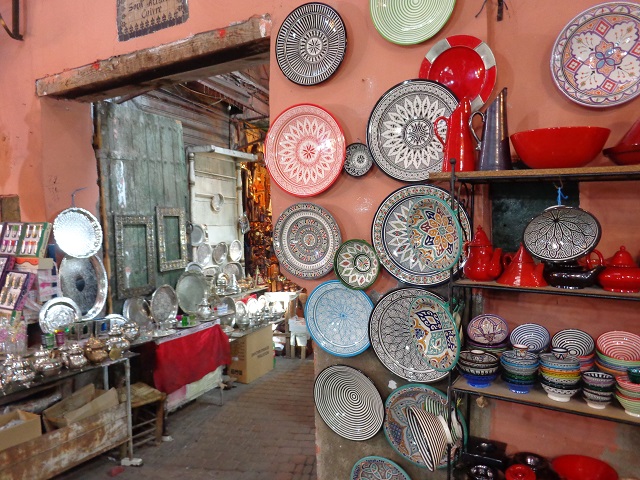 We booked a guide with ToursByLocals and found ourselves acquainted with Mehdi.
Now, you might think "why can't you just get a map and walk around like you normally do? How hard can it be?"
That's true. We have always been proud of being able to navigate any place in the world armed with a map. However for a place so colourful and somewhat misunderstood, I thought it'd be interesting to speak to a local about places that you normally can't access without a guide.
And, he knew exactly where he was going in the souks too!
We weren't in Marrakech to shop, and Mehdi knew that, so he walked us around in and out of the souks explaining the local traditions and patterns used in the artisans works – he took us to tanneries where shrouded by the stink of pigeon poo (the ingredient used to soften fur on hides for easier removal) while leather is prepared for crafting.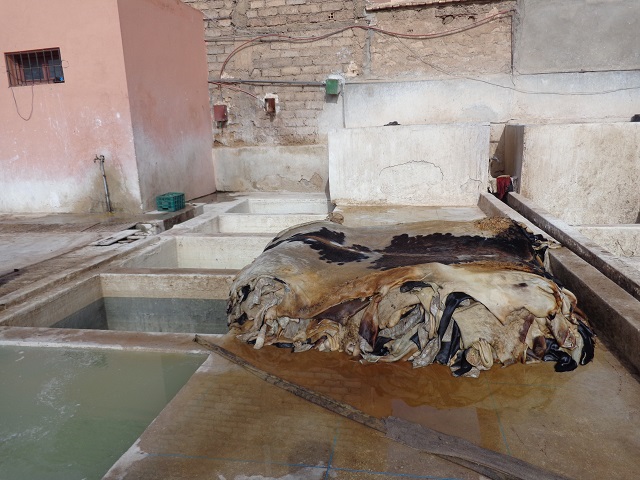 Warning: tannery visits are NOT vegetarian friendly.
We walked through narrow alleys filled with workshops, entertained by the constant bang of the hammer on metal plates, the clunking of the sewing machine and the chatter of artists that work with each other.
Down the road in another block, we encountered the leather trading area where merchants come to auction on piles of leather, still smelling of pigeon poo, from the tanners to make the belts, handbags and babouches (Moroccan slippers) that are then sold to the owner to shops in the souks.
The atmosphere was lively – each merchant carefully checks the leather for quality before placing a bid and handing over a wad of cash. Something you just don't see in our worlds!
Then, for our purpose of investigating local lives in Marrakech, Mehdi also took us to local bakeries to watch a baker at work.
You might think, bakeries are where you buy bread, cakes and coffee but in Morocco, local bakeries are pretty much a hired baker and his oven – families bring their home made dough to the baker and they are baked and picked up by the families that deposited them in about an hour's time.
The baker knew each family's breads and never mixes them up!
And no, without a guide you don't necessarily have the knowledge, nor the prerogative to visit such a place. Also, most people don't like their photographs taken and guides often can persuade them with a couple of Dirhams for you to take photographs.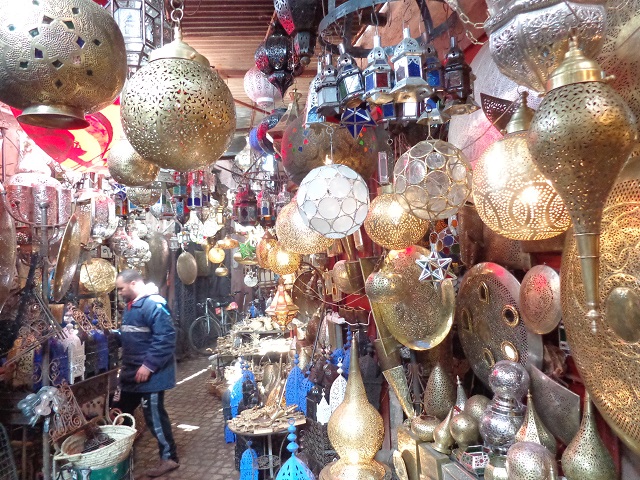 Let a local teach you how to bargain
My mum is an absolute pro, but I don't know much about bargaining having grown up in a culture that isn't used to this practice, but the idea of bargaining is a sport in the souks in Marrakech.
And while there are many techniques used in bargaining, there is a formula that can generally be applied (and expected from the shop keepers).
"You take their price, cut it down to a little below half of that," answered Mehdi when I asked for advice, "then you'll meet somewhere in the middle from there."
Sounds easy, but we weren't really there to shop (nor did we have much money to shop with) so we simply indulged in looking at all the beautiful lanterns and colourful babouches before saying our goodbyes at the main square – Jemaa el-Fnaa.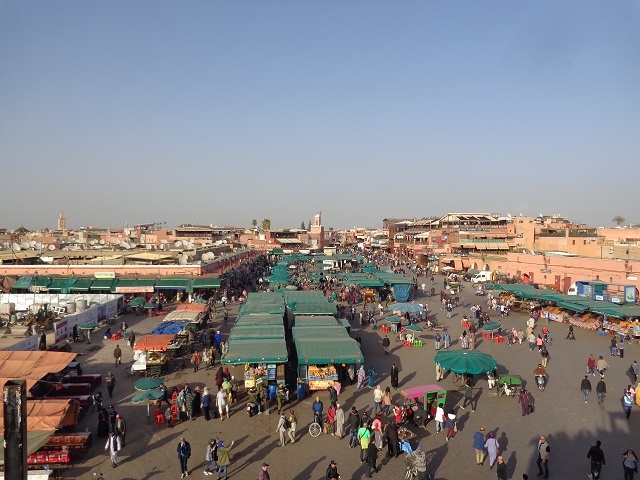 Souks are not unique to Morocco
Although I do find there are a lot more colourful, more exciting here than say… Dubai. Moroccans are proud of their arts and crafts and according to Mehdi, unlike other parts of the world, the skill is not being drained by the young.
"We have specialist schools for artisans," he said "and if a child doesn't show interest in other academic studies, this is offered to them as an alternative and many have gone on to make a living."
And indeed, the artisans in Marrakech (and I am sure, in the rest of Morocco) are talented. Their lamps, ceramic ware, leather good are prized all over the world, with many people coming here to source ideas and items for their home interior.
And you must experience the souks. Do get a licensed guide though.