I think it's time to finally admit we are getting old.
It was about three hours into the second leg of our flight from London to Sydney when we began to realise: we no longer find inflight entertainment entertaining, the complimentary alcohol no longer amused us and to be honest, our bodies no longer tolerated the 26+ hours of sitting in one position, enclosed in a dark, compressed cabin.
Gone are the days we can power through a long haul flight and land with surplus energy to burn for a day of sightseeing. The eagerness of wanting to get somewhere fast has been replaced with the desire for more comfort and better sleep. A chance to stretch our legs, reset the stiffness pinning on our bones and a chance to eat something that isn't served in squares of aluminium foil.
So on our way back to London at the end of the trip, we decided on a stop over in Dubai (we flew Emirates).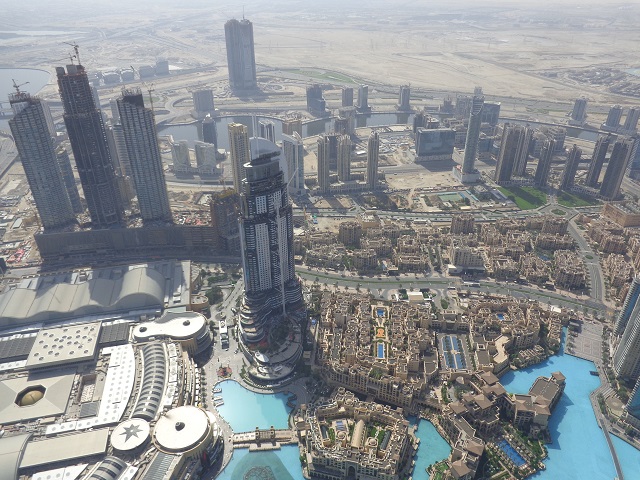 I'll be honest… Dubai never really appealed to us
Dubai's got a reputation – a very shiny one. That needle of a building called Burj Khalifa seems to pierce upwards towards infinity and beyond, and there are very shiny cars with very expensive labels on them roaming around the very straight and wide boulevards below.
The city has the world's largest mall (it has a life sized dinosaur in it and a giant fish tank: because they can…), some of the most ambitious construction projects (the city can be compared to as the world's biggest construction site, which did include 'The World' but they've since given up on it) and some of the most extravagant hotels filled with the world's rich and richer.
But, we've never been that much into 'man-made' stuff, preferring to surround ourselves with nature and cultural experiences.  So, it was with hesitation that we booked our Dubai stop over.
Our Dubai stop over started with…. major jet lag
Funny thing isn't it? You live in four months in cold, wet London and it's not until you get to warmish Sydney (which absolutely bucketed) and hot Dubai that you get sick? I mean, what's with that??
Either way, the plan was, land around 1:30pm, get to the hotel to drop off our bags and go out exploring.
Reality? We got to the hotel, say to each other "let's just snooze for 30 minutes to get over the flight" – and the next thing we knew? It was 8pm and we only got up because we were in need of dinner. Took an hour at a nearby restaurant before crashing back into bed again.
Dubai stop over lesson # 1: after 17 hours of flight, just don't plan to do anything.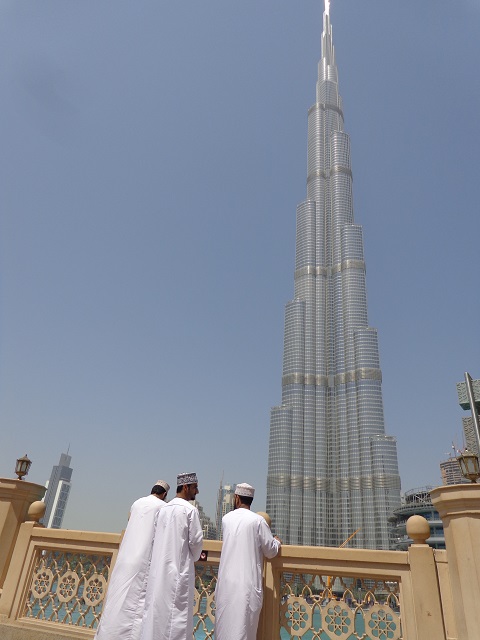 Desert safari? Not the best idea when jet lagged
The next day, we were still both sick and suffering from major jet lag hang over.
Forcing ourselves to get up for breakfast, we struggled to stay awake even as we sipped on our espresso. Defeated eventually by our heavy eye lids, aware that we had paid for and booked a desert safari in the afternoon, we set the alarm and went back to sleep.
You know when they say desert safari, you sort of think 'oh yeah, just like, driving around the desert looking at sand right?'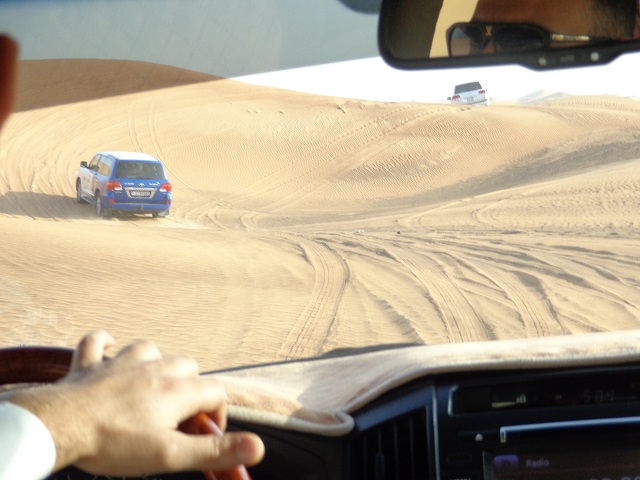 Well, kind of. Except, we didn't expect the 'drive' turned out to be an hour of sand hurling, tyre skidding and roller coasting up and down the dunes like Mad Max!
Ok, so we probably should have got the hint upon seeing the roll bar inside the vehicle but hey, remember we were disorientated by jet lag and a cold!
Worst hour of our Dubai stop over. Thankfully, we were deposited at a desert camp for a lovely dinner and show before being calming driven back to our hotel. All eventually ended well.
Dubai stop over lesson # 2: desert safari does not play well with jet lag!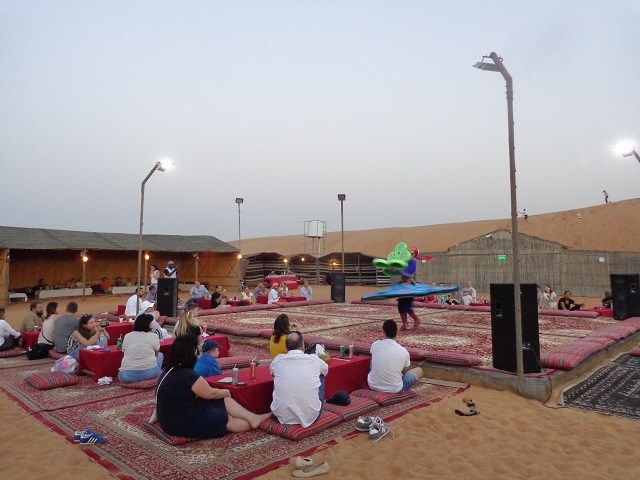 In the end, we did have fun though
On our third day, we were feeling much better and began the day with a trip up to the skies at the observation deck of Burj Khalifa.
And the view was pretty spectacular.
It is hard not to be impressed by the world's tallest building, both from below and above. At the base is Dubai Mall, full of everyday brands as well as some of the exclusive labels that are so bespoke I've never heard of them.
Using the excellent Dubai Metro, we then crossed the city to Deira to visit the souqs, including the Gold Souq which made me question: "Who the hell has the money and the audacity to wear THAT!?"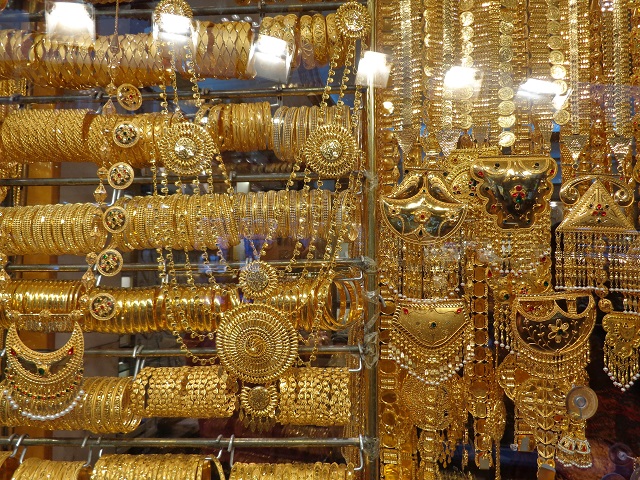 Then, we took a traditional Abra (small wooden boats with open bench seats) to cross Dubai creek for fun, before speeding back to the Downtown area for the evening fountain performance.
The Dubai fountain displays jets of water dances to soothing (and at times, majestic) music with the sparkling Burj Khalifa as a background is, especially one of the highlight of Dubai.
A friend who has been living in Dubai suggested that we take the front of house seat on a balcony at one of the restaurants at the fountain for the best experience and it really was the best advice, and probably one of the most romantic thing we've ever done as a couple!
Dubai stop over lesson # 3: never underestimate Dubai!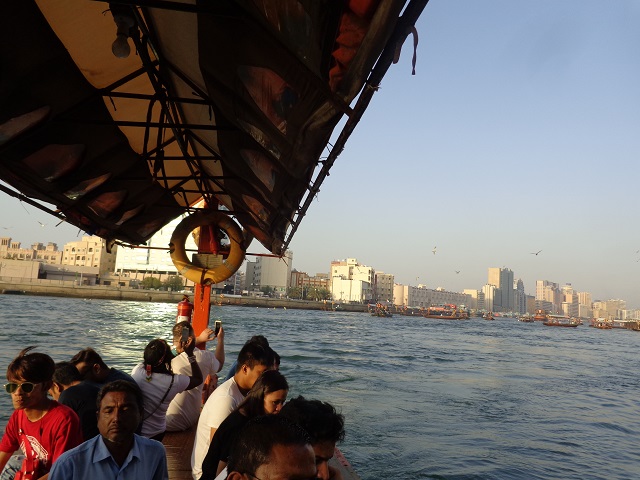 Lastly… we'll probably do a Dubai stop over again!
Between jet lag, a cold and lack of sleep, we really only had a full day to enjoy what Dubai had to offer. Yes, I did say we don't care much for skyscrapers and all that slick city stuff, but of the time we did get to spend in Dubai we did have fun.
I would have liked to visit the Sheikh Mohammed Centre for Cultural Understanding, for example, to get some culture in us about the traditional lifestyle of the Arabian culture.
I'd like to eat more. Yup, I said it. EAT MORE.
We had stayed around the old Dubai area where a lot of the ex-pats from the Indian sub-continent lived, and was surprised at how fantastic the food there was.
In a city built by ex-pats from all around the world (around 80% of Dubai's residents are foreigners) there must be areas where people from different countries live – which means, by our experience staying in old Dubai, in theory we should be able to find authentic dining of everywhere in the world!
I'd like to at least check out the Atlantis, just because.
Most of all, I'd like to spend a little longer and visit other areas of the U.A.E. – Abu Dhabi, Al Ain – and maybe do a side trip to say… Oman?
Dubai stop over lesson # 4: stop over for a little longer than 3 days – and see everything!
Been to Dubai? What would you have recommended us to do?