I had wanted to add a bit more about Old Dubai (areas surrounding Al Karama and Deira) to my previous Dubai stop over post, but I thought about it a bit more, it really does deserve a post on its own, as it is to me, a more interesting side to the Dubai compared to how the city wants to be marketed in the tourism market.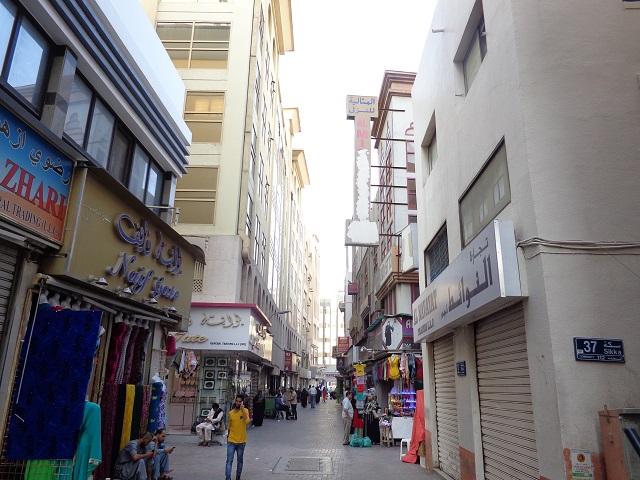 You'll find 'old Dubai' when you approach the creek from Downtown Dubai (where all the fancy skyscrapers are). It is an area where housing are less glam and more of the dusty desert dwellings that is common in many of the Arab and north African countries (we saw similar styles of low rise, mono-coloured buildings in Morocco).
Actually, the airport is just around the corner so if you are taking the Metro from the airport, it's easier to get to this part of Dubai than Downtown.
We stayed in a hotel called Orchid Vue in the Al Karama neighbourhood, which is not run by any of the more familiar hotel groups that most people in western societies know about. It is a little run down, a bit more brash in service and all in all will probably put a few people off from enjoying their stop over.
It is also where a lot of the blue collar workers live (as opposed to the more luxurious lifestyle enjoyed by white collar foreign workers around the Downtown / Palm areas) and are, essentially a lot more hectic. Another thing that may once again, make some of the people, who has an image of Dubai as the glamour queen of the desert kingdoms, rather uncomfortable.
However, this is where you'll find some of the cheaper room rates if you are the type of traveller like us who really just want a bed to sleep on. We had found it much more enjoyable than Downtown (of the very limited days we spent in Dubai) as it was colourful, had fantastic restaurants from Indian to Sri Lankan, to Persian to Russian, as well as heritage attractions that tell tales of what Dubai used to be like before the oil boom.
As mentioned in my previous post, we didn't really do all that much. However, during the time when we were awake, we walked around old Dubai and the creek areas and found ourselves among attractions that were lesser known and visited by stop over tourists.
1. Glimpses of historical Dubai
In Al Karama, you'll find Al Fahidi Historical Neighbourhood – a restored model of how people used to live in Dubai where you can walk around and feel what it must be like (but add a bit more people, camels and donkeys in your imagination).
If you have a bit of time, spend a morning/afternoon at the Sheikh Mohammed Centre for Cultural Understanding, where you can learn about the cultural aspects of the U.A.E.. Set up mainly for the benefits of the many (many!) foreign work force here in Dubai, but also great for tourists as that's what travelling is about – to learn about each other's lives, not just to sit around pretty hotels!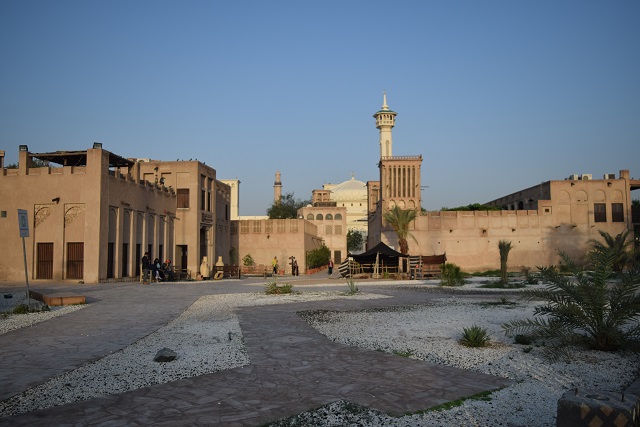 2. There are interesting Museums
The Al Fahidi Fort, built in 1787 and is the oldest existing building in Dubai, now houses the Dubai Museum, where you can find more details on the history of Dubai and surrounding region, as well as a cluster of other museums such as Crossroads of Civilizations Museum, Women's Museum, Coffee Museum, Dubai Municipality Museum, Dubai Police Museum and Naif Museum.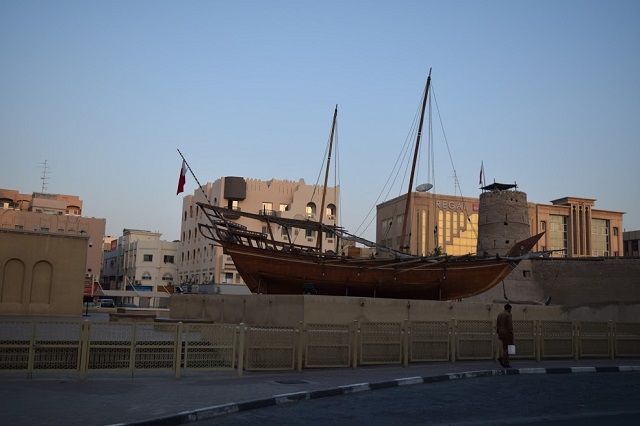 3. Shopping in the Souqs (markets)
In Deira and along the creek of Al Karama you'll find a number of souqs to visit. Souqs are markets, that often only concentrate on one theme of products, such as gold souq, spice souq, perfume souq and textile souq. Unlike the souks in Marrakesh, these are better organised with proper shop fronts but bargaining skills still essential!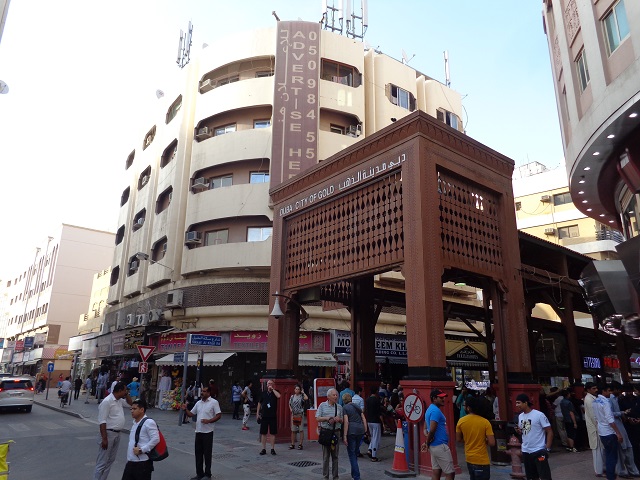 4. Cruise around Dubai creek
We've been told a trip on Dubai creek is a must, as this is how people in old Dubai travelled before motor vehicles. There are small boat ferries called Abra that take you from one side of the creek to the other for just 1 AED – or, as most visitors prefer (because, why not) you can hire an entire boat for your party of whatever and just do a leisurely round trip.
Alternatively, there are plenty of Dhow boats that run dinner cruises up and down the creek for some sightseeing after dark.
(Read this review on Contented Traveller blog: Dhow boat dinner experience!)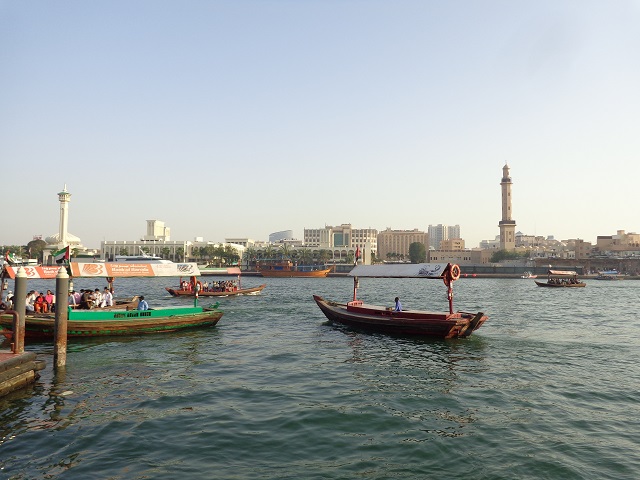 5. Plenty of fantastic and cheap food
It's not like we don't enjoy fine dining. However, we can't always afford fine dining! Another reason why we tend to go to 'cheaper' places to eat is because they are generally better.
And it is in this part of Dubai that we enjoyed some of the best south Asian cuisine! There were also plenty of shawarma places too, these cheap and cheerful wraps are great lunch options, and are food that we found hard to find in the more upper class areas of Dubai.
What are your old Dubai favourites? Share it with us!